Mixed Bag
So much good stuff floating around on the internet today.
---From Jennifer:
Click on the flyer for a very good podcast, then go see the exhibit.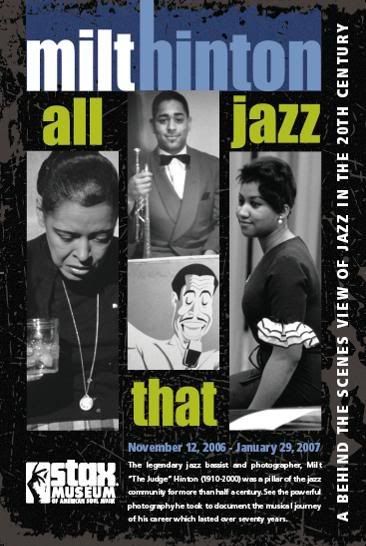 The Stax Museum of American Soul Music will host a very special photography exhibit UNTIL January 29, 2007: Milt Hinton: All That Jazz Behind the Scenes Photographs of 20th Century Jazz. The exhibit, on loan from the New York City-based Milton J. Hinton Photographic Collection, will include 50 Hinton photographs of the most important jazz figures in history, including Cab Calloway, Ella Fitzgerald, Pearl Bailey, Dizzy Gillespie, Louis Armstrong, Sarah Vaughan, Thelonious Monk, Memphis' own Mulgrew Miller and Aretha Franklin, the aforementioned Billie Holiday, and dozens of other legendary performers who helped shape the American art form.
---Join 10 Degrees of Memphis on MySpace for weekly podcasts from Rachel And The City.
---Marcus clues me in to Franco A GoGo at Radio Oh-La-La. Great podcasts and streaming radio. Makes me happy at work.
---Dan from the HiTone reminds us that Jucifer and Organ Thief are playing there tonight. 9:00pm doors, $8.00 cover. Thanks Dan! (Now can I photograph a swim suit model on your roof?)
---Quinn Powers quits the Guacos and plays with new band the STAGS! tonight at Murphy's with The Ettes. The Ettes = Growly girl vocal goodness. YYY- or Gossip-style. Here's a flyer: